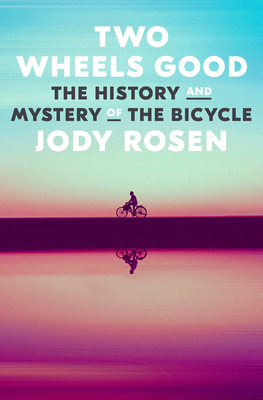 Title: Two Wheels Good: The History and Mystery of The Bicycle
Author: Jody Rosen
Completed: Sept 2022 (Full list of books)
Overview: If there is nothing in this book that makes you want to go out for a bike ride, nothing will. It has a many stories about bikes and biking I'd heard before but so many that I hadn't. Who knew that bikes were so popular during the Klondike Gold Rush? Some of the later chapters rambled on a little but overall, this was such an enjoyable look at (arguably) the best form of land transportation ever.
Highlights:
During the last years of the century there were countless efforts to merge the bicycle and the airship. Newspapers and scientific quarterlies announced the inventions of "the Aerial-Cycle," "the Luftvelociped," "the Pegasipede." There were designs for bikes with whirling rotors, with whipping fan blades, with kite-shaped sails; there were proposals for dirigibles powered by squadrons of cyclists.
"Bicycling…has done more to emancipate women than anything else in the world," said Susan B. Anthony in 1896. "It would not be at all strange," wrote a Detroit Tribune editorialist that same year, "if history came to the conclusion that the perfection of the bicycle was the greatest incident in the nineteenth century."
There are approximately one billion cars in the world today. There are twice as many bikes. The number of bicycles manufactured this year in China alone will exceed the total worldwide production of automobiles. The cities and towns we inhabit, our economies, our laws are designed for cars; we hop between continents on airplanes. Yet we live on a bicycle planet.
"Get a bicycle," wrote Mark Twain in 1886. "You will not regret it, if you live."
Among the first major cycling organizations were socialist bicycle clubs in 1890s Britain, which hailed the bicycle as an egalitarian "people's nag." Through the decades, the bicycle has retained its countercultural potency.
Governments have long recognized the bicycle as a means of resistance. One of Adolf Hitler's first acts upon assuming power, in 1933, was to smash Germany's cycling union, the Bund Deutscher Radfahrer, which was associated with anti-Nazi political parties and was capable of assembling tens of thousands of cyclists in the streets.
Increasingly, public opinion is tilting toward a belief long held by cycling advocates: cars are killing us. Researchers say that motor vehicles are the largest net contributor to climate change. The problem will not be solved by electric or hybrid automobiles, since tire wear and other non-tailpipe pollutants account for a large percentage of vehicle emissions.
In earlier stages of wheel development, spokes were threaded from hub to rim radially, but designers figured out that a tangential pattern—in which the spokes stretch out from the hub at angles in an overlapping configuration—made the wheel more resistant to warping. Also, tangential spoking is an eye-catcher.
A key figure is Jules-Pierre Suriray, the Parisian bicycle builder who patented the ball bearing, that "atom of the Machine Age," essential to the operation of not just bikes and cars but everything from fishing reels to air conditioners to computer hard drives to the Hubble telescope and the Mars rover.
Charles Sheldon, the American Congregationalist minister whose 1896 novel In His Steps popularized the phrase "What would Jesus do?," took the position that the bicycle was the ethical choice: "I think Jesus might ride a wheel if He were in our place, in order to save His own strength and the beast of burden."
Whenever a healthful amusement becomes a mania, it ceases to be healthful. The doctors have invented the word bicychloris to designate a condition in which the blood is impoverished and the vitality of the system lowered from excessive wheeling.
Philip Carr-Gomm has written that people who protest in the nude "convey a complex message: they challenge the status quo by acting provocatively, and they empower themselves and their cause by showing that they are fearless and have nothing to hide. But at the same time they reveal the vulnerability and frailty of the human being." The WNBR embraces the direct-action tactics of Critical Mass; its rhetoric links nudity and sexuality to environmentalism, safe streets, and anti-automobilism. "By cycling naked we declare our confidence in the beauty and individuality of our bodies," reads the WNBR mission statement. "We face automobile traffic with our naked bodies as the best way of defending our dignity and exposing the vulnerability faced by cyclists and pedestrians on our streets as well as the negative consequences we all face due to dependence on oil, and other forms of non-renewable energy."
the only people getting wealthy in the Klondike were the early stakeholders and entrepreneurs who had established businesses catering to the gold rush hordes. One of these was Frederick Trump, Donald Trump's grandfather, an immigrant who had dodged the draft in Germany, fled to the United States, and made a small fortune opening hotels in the Yukon riverbank towns of Bennett and Whitehorse.
Klondike cyclists claimed another advantage over horses and dog teams: speed. If the weather cooperated, bicycle riders could travel faster than anyone, up to one hundred miles per day on flat stretches of trail, about twice the distance covered by prospectors with dog teams.
there is a responsibility to create the conditions for happiness." Dorji said: "When we say 'happiness,' we have to be very clear that it's not fun, pleasure, thrills, excitement, all the temporary fleeting senses. It is permanent contentment. That lies within the self. Because the bigger house, the faster car, the nicer clothes—they don't give you that contentment. GNH means good governance. GNH means preservation of traditional culture. And it means sustainable socioeconomic development. Remember that GNH is a pun on GDP, gross domestic product. We are making a distinction."
Bhutan's success in combating the Covid-19 pandemic—only three Covid deaths, through the end of 2021—has been ascribed to geography and topography: the Himalayas are great social distancers. But the efficiency with which the government vaccinated nearly the entire adult population underscores another kind of Bhutanese exceptionalism, the bureaucratic competency and social cohesion that shield a small developing nation from the pathogens, and the pathologies, plaguing the theoretically more sophisticated wider world.
Tshering Tobgay, for one, doesn't see Bhutan's topography as an impediment. "In fact, our terrain in Bhutan is bicycle-friendly," Tobgay said. "If it's all flat, it's no fun."
For three straight years—1972, 1973, and 1974—bicycles outsold cars in the United States.
In 1992, Gallagher estimated that there were seven million passenger trips taken by rickshaw in Dhaka each day, covering a distance of eleven million miles. These totals, Gallagher noted, "nearly double the output of London's underground railway." In the decades since, Dhaka's population has more than tripled, and the statistics have surely spiked accordingly.
To teach a novice how to keep a bike stable and moving forward, Karl von Drais's invention turns out to be far preferable to a bicycle rigged with training wheels. History's original bike has returned as a starter bike.
Eventually, the bicycle would become something close to compulsory: along with a watch and sewing machine and radio, it was one of the proverbial "three rounds and a sound," the must-have possessions for all Chinese adults who wished to get married and start a family.
a woman could be heard screaming at the police, asking why bikes were being taken and how protesters were supposed to travel home. Another piece of viral footage showed three policemen clubbing a cyclist with batons on a Manhattan street. It was unclear whether the man was arrested or what became of his bicycle. In the days that followed, the NYPD's anti-bicycle actions continued. The Daily News reporter Catherina Gioino tweeted that the police had been ordered to "focus on the bicyclists."
NYPD has a long history of hostility to cyclists, especially cyclists who are also protesters. For years, the police used aggressive, sometimes violent tactics to sweep up participants in Critical Mass rallies. In 2008, an NYPD officer body-slammed a Critical Mass rider; the cop later received a felony conviction for this action and for filing a false criminal complaint in an attempt to frame the cyclist. In 2010, the city agreed to pay a settlement of nearly $1 million to eighty-three Critical Mass riders who had been wrongly detained or arrested between 2004 and 2006.
The manual offers examples illustrating the difference between "peaceful" crowds ("Parades or details such as New Year's Eve") and "violent" crowds ("Occupy Wall Street, BLM movement, Anti-Trump Demonstrations"), and provides instruction in a number of "aggressive" cycling maneuvers (the "Power Slide," the "Dynamic Dismount") that bike officers use to control and subdue.