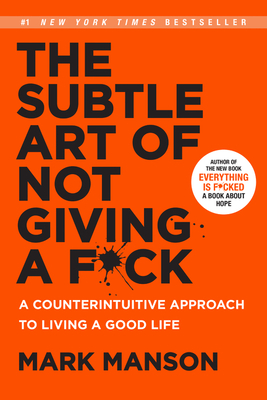 Title: The Subtle Art of Not Giving a F*ck
Author: Mark Manson
Completed: July 2022 (Full list of books)
Overview: This book came up in several reading lists I'd seen recently. The first chapter or two had a very different voice than I'm used to with books. His use of seemed to focus on shock value more than actual content. After that, it read much more like a stoic self-help book. It was not a bad book and I'm glad I read it, but not one of my favorites.
Highlights:
A confident man doesn't feel a need to prove that he's confident. A rich woman doesn't feel a need to convince anybody that she's rich. Either you are or you are not. And if you're dreaming of something all the time, then you're reinforcing the same unconscious reality over and over: that you are not that.
You are constantly bombarded with messages to give a fuck about everything, all the time. Give a fuck about a new TV. Give a fuck about having a better vacation than your coworkers. Give a fuck about buying that new lawn ornament. Give a fuck about having the right kind of selfie stick. Why? My guess: because giving a fuck about more stuff is good for business.
Wanting positive experience is a negative experience; accepting negative experience is a positive experience. It's what the philosopher Alan Watts used to refer to as "the backwards law"—the idea that the more you pursue feeling better all the time, the less satisfied you become, as pursuing something only reinforces the fact that you lack it in the first place. The more you desperately want to be rich, the more poor and unworthy you feel, regardless of how much money you actually make.
As the existential philosopher Albert Camus said (and I'm pretty sure he wasn't on LSD at the time): "You will never be happy if you continue to search for what happiness consists of. You will never live if you are looking for the meaning of life." Or put more simply: Don't try.
I once heard an artist say that when a person has no problems, the mind automatically finds a way to invent some. I think what most people—especially educated, pampered middle-class white people—consider "life problems" are really just side effects of not having anything more important to worry about.
this is what's so dangerous about a society that coddles itself more and more from the inevitable discomforts of life: we lose the benefits of experiencing healthy doses of pain, a loss that disconnects us from the reality of the world around us.
Happiness comes from solving problems. The keyword here is "solving." If you're avoiding your problems or feel like you don't have any problems, then you're going to make yourself miserable. If you feel like you have problems that you can't solve, you will likewise make yourself miserable. The secret sauce is in the solving of the problems, not in not having problems in the first place.
What determines your success isn't, "What do you want to enjoy?" The relevant question is, "What pain do you want to sustain?" The path to happiness is a path full of shitheaps and shame. You have to choose something. You can't have a pain-free life.
our struggles determine our successes. Our problems birth our happiness, along with slightly better, slightly upgraded problems. See: it's a never-ending upward spiral. And if you think at any point you're allowed to stop climbing, I'm afraid you're missing the point. Because the joy is in the climb itself.
If suffering is inevitable, if our problems in life are unavoidable, then the question we should be asking is not "How do I stop suffering?" but "Why am I suffering—for what purpose?"
Self-awareness is like an onion. There are multiple layers to it, and the more you peel them back, the more likely you're going to start crying at inappropriate times.
the first layer of the self-awareness onion is a simple understanding of one's emotions.
The second layer of the self-awareness onion is an ability to ask why we feel certain emotions.
The third level is our personal values: Why do I consider this to be success/failure? How am I choosing to measure myself? By what standard am I judging myself and everyone around me? This level, which takes constant questioning and effort, is incredibly difficult to reach. But it's the most important, because our values determine the nature of our problems, and the nature of our problems determines the quality of our lives.
We don't always control what happens to us. But we always control how we interpret what happens to us, as well as how we respond. Whether we consciously recognize it or not, we are always responsible for our experiences. It's impossible not to be. Choosing to not consciously interpret events in our lives is still an interpretation of the events of our lives. Choosing to not respond to the events in our lives is still a response to the events in our lives. Even if you get run over by a clown car and pissed on by a busload of schoolchildren, it's still your responsibility to interpret the meaning of the event and choose a response.
"With great responsibility comes great power." The more we choose to accept responsibility in our lives, the more power we will exercise over our lives. Accepting responsibility for our problems is thus the first step to solving them.
But there are also problems that we aren't at fault for, yet we are still responsible for them. For example, if you woke up one day and there was a newborn baby on your doorstep, it would not be your fault that the baby had been put there, but the baby would now be your responsibility. You would have to choose what to do. And whatever you ended up choosing (keeping it, getting rid of it, ignoring it, feeding it to a pit bull), there would be problems associated with your choice—and you would be responsible for those as well.
Here's one way to think about the distinction between the two concepts. Fault is past tense. Responsibility is present tense. Fault results from choices that have already been made. Responsibility results from the choices you're currently making, every second of every day.
Growth is an endlessly iterative process. When we learn something new, we don't go from "wrong" to "right." Rather, we go from wrong to slightly less wrong.
My recommendation: don't be special; don't be unique. Redefine your metrics in mundane and broad ways. Choose to measure yourself not as a rising star or an undiscovered genius. Choose to measure yourself not as some horrible victim or dismal failure. Instead, measure yourself by more mundane identities: a student, a partner, a friend, a creator. The narrower and rarer the identity you choose for yourself, the more everything will seem to threaten you. For that reason, define yourself in the simplest and most ordinary ways possible.
Question #3: Would being wrong create a better or a worse problem than my current problem, for both myself and others?
If your metric for the value "success by worldly standards" is "Buy a house and a nice car," and you spend twenty years working your ass off to achieve it, once it's achieved the metric has nothing left to give you. Then say hello to your midlife crisis, because the problem that drove you your entire adult life was just taken away from you. There are no other opportunities to keep growing and improving, and yet it's growth that generates happiness, not a long list of arbitrary achievements.
When I was in high school, my math teacher Mr. Packwood used to say, "If you're stuck on a problem, don't sit there and think about it; just start working on it. Even if you don't know what you're doing, the simple act of working on it will eventually cause the right ideas to show up in your head."
If we follow the "do something" principle, failure feels unimportant. When the standard of success becomes merely acting—when any result is regarded as progress and important, when inspiration is seen as a reward rather than a prerequisite—we propel ourselves ahead. We feel free to fail, and that failure moves us forward.
Without conflict, there can be no trust. Conflict exists to show us who is there for us unconditionally and who is just there for the benefits. No one trusts a yes-man.