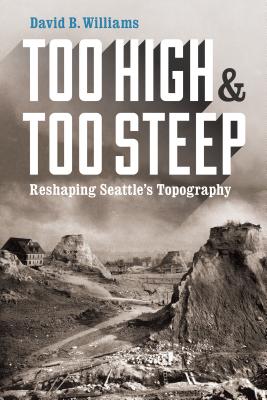 Title: Too High & Too Steep: Reshaping Seattle's Topography
Author: David B. Williams
Completed: Apr 2022 (Full list of books)
Overview: Wow, I really enjoyed this book. It is staggering just how much the landscape of Seattle changed because people felt the geography and topography weren't optimal. The mindset required to look at a 200'+ hill and think, wouldn't it be better if that weren't here is astounding. The history of the early city was fun to learn about as well. Having run all the streets discussed in the book, I could envision many of the areas that were transformed. Additionally, the talk about lowering Lake Washington and how that impacted Renton discussed most of the streets I cover on my daily commute. If you're not in Seattle, examining the hubris of the city a century ago will still be interesting, but if you live here, it's definitely worth reading to see how this place has been reshaped to fit a few men's the vision of the city and what it could become.
Highlights:
the Duwamish year began with the emergence of salmonberry shoots and fiddlehead ferns.
Few people before the early twentieth century considered the environmental or sociological consequences of grand projects such as building dams and canals, mining rivers and mountains, or harvesting forests. It is how the world operated; I doubt they foresaw our natural resources ever running out or even that such changes caused irreparable harm. Seattleites were simply doing what everyone else was doing.
The desire to be a world-class city has long driven the actions of many Seattleites, from bestowing the name New York Alki—or what we now call Alki Point—on what was little more than a nanospeck of civilization in 1851 to boasting about the city's spectacular natural setting to making an ill-fated attempt at hosting the World Trade Organization in 1999. That kind of ambition is evident today in the city's elaborate plan to replace the elevated Alaskan Way Viaduct with a tunnel and grand park.
the elimination of Denny Hill at the north end of downtown. Between 1898 and 1930, Seattleites washed and scraped away more than 11 million cubic yards of Denny, reducing a double-peaked, 240-foot-high mound to a pancake-flat tabula rasa. But this was not a lone hill-leveling. An additional 6 million cubic yards of dirt and rock were removed from where Jackson Street and Dearborn Street rose up steep hills.
By 1931, at least 75 million cubic yards of material had been moved by dredging, regrading, and filling. In trying to picture the amount of soil removed, an early reporter for the P-I wrote, "This would mean a total of 605,000 carloads, which in 40-foot cars would reach all the way from here to Broadway, New York, and more than half way back, and at twenty miles an hour would take the great trainload ten days to pass any given point on the route." Now take this image and multiply it by six, because the P-I man was writing in 1909, when only 12.1 million cubic yards had been moved.16 This is a staggering number, especially when you consider that most of it was moved with small, relatively primitive machinery.
what we locals call hills. The best known of these are the famed seven that, according to local legend, Seattle was built upon. In order of highest to lowest elevation, they are Queen Anne (470 feet), Capitol (464 feet), Renton (412 feet), Beacon (364 feet), First (360 feet), Profanity (319 feet), and Denny (240 feet).6 In recent times, Magnolia (392 feet) and West Seattle (520 feet) have replaced Renton and Profanity in the city's pantheon.
The Seattle Landslide Study reported that more than thirteen hundred landslides had hit Seattle since 1890.
When they did notice the beachcombers, residents tended to complain about them. The shanties, lean-tos, and sheds of the former were a "blemish on this fair and growing city," wrote one observer in 1892. Others petitioned the city health officer to destroy what they called Shantytown, home to around five hundred people.
contrast to those forced to live on the tideflats and beaches, businesses that moved their operations onto these territories were often portrayed as entrepreneurs. For example, those who built a long wharf jutting out into Elliott Bay were called "enterprising citizens."
At the time of the fire, Seattle's population had exploded, reaching about thirty thousand.39 The rapidly growing city now had its first five-story building, eight sawmills, and—to ensure that everyone was happy—four breweries and five candy factories.
It was an osprey, a bird formerly known as the sea hawk and one never found far from water, which means never far from salmon.
Although we usually don't consider it today, coal helped make Seattle the most important town in Puget Sound.19 With coal, the young community had a second economic driver beyond what every town in the Pacific Northwest had: that is, they all possessed a seemingly endless supply of first-rate lumber.
Because they lived in an era when men thought they could triumph over nature, Seattleites believed they could move forward as if the natural rhythms of earth and sea did not exist. Who cared if the tides came in twice a day, when you could drive a forest of logs into the ground and develop a platform for industry?
Even after the transcontinental railroads arrived, rail shipments within the state dwarfed those out of state. The local lines were, argued one economic historian, far more important than transcontinental railroads in explaining why Seattle became the major city of the state, and his argument had nothing to do with the unquantifiable effects, such as their facilitation of the physical growth of Seattle.
the importance of railroads to the city and the tidelands. For example, if, in 1912, you had attempted to walk east along or a bit north of Dearborn Street, you would have crossed at least fifty sets of tracks by the time you reached Fifth Avenue South.
Slicing through Beacon Hill may seem in modern terms to be completely foolish, unrealistic, and environmentally asinine, but in our predecessors' eyes it was standard operating procedure and a sign of progress.
Construction began on the two sets of locks and the two sections of canal (Lake Washington to Lake Union and Lake Union to Salmon Bay) in autumn 1911. The locks' gates closed on July 12, 1916, and thirteen days later Salmon Bay had risen to its present level of twenty-one feet above mean sea level. In late August, the barrier separating Lake Washington and Lake Union was breached. Water drained for four months, until the water levels equilibrated through the two canal sections, which together were a little over a mile and a half long.
Lowering Lake Washington by nine feet reduced the surface area by two square miles, shrank the shoreline by more than ten miles, and eliminated two islands.
The most significant postcanal ecological change took place at the south end of the lake, about nine miles by air from downtown Seattle. Before the canal opened, much of what is now modern Renton, including the massive buildings of the Boeing plant, the acres of surrounding parking lots, Renton Municipal Airport, and Renton Stadium, was once underwater or part of a several-hundred-acre marsh, according to my 1905 map.
the Cedar River. The river starts about five miles southwest of Snoqualmie Pass and flows through second-growth forest about twenty-five miles to a small dam, where about a quarter of the water gets diverted into pipes to become the main source of drinking water for Seattle.
the confluence of the Black and Cedar was the site of the first sawmill in King County outside of Seattle. Started in 1854 by three settlers, the sawmill lasted only two years. Across from the mill was an outcrop of black rock that may have been the earliest-recorded location of coal in the region. The land eventually ended up under the ownership of the Renton Coal Company, named for Captain William Renton, who helped finance the endeavor.
The gentle arc of Hardie Avenue Southwest follows what was formerly the route of the Black River as it meandered south. Farther down Hardie, the road continues under a set of railroad tracks, as the Black once did. The river then turned west and flowed south of the tracks to its confluence with the Duwamish River. As far as I can determine, Hardie is the only infrastructure left that provides a trace of the Black.
Joseph Moses, who was a member of the Duwamish tribe and one of the last to live on the tribe's historic land in downtown Renton, offered a different take. "That was quite a day, for the white people, at least. The waters just went down, down, until our landing and canoes stood dry, and there was no Black River at all. There were pools, of course, and the struggling fish trapped in them. People came from miles around, laughing and hollering and stuffing the fish in gunny sacks." In the words of Warren King George, the Black River is like "a bad scar that never heals up."
the Cedar carries significantly more water than the Sammamish, which has the effect of increasing how quickly the lake water replaces itself. Before 1916, the residence time of water in the lake was five years, about twice the present rate. The twofold effect of dilution and fast flushing helped clear the lake more quickly than anyone had predicted.
"Lake Washington is essentially a poster child for how we can disrupt a system. It's fairly remarkable that it's not sterile with all that we have done to it," says Kurt Fresh, a biologist with the National Oceanic and Atmospheric Administration.
This north extension of Union Bay had been a very popular spot for University of Washington students, for what was known as "canoeing wooing."
industries did develop on the lake. Most were drawn there not by the newly exposed land but by the new connection out to Puget Sound and the Pacific Ocean. Perhaps the oddest to appear was one established on Meydenbauer Bay, now one of the eastside's more exclusive neighborhoods but formerly the winter base for what would become the last substantial whaling company based in the United States. Owned by William Schupp, who had made his money in insurance, the American Pacific Whaling Company had long been based in Westport, Washington, then known as Bay City, when Schupp acquired it in 1914. In 1918, he moved his fleet to Meydenbauer Bay to take advantage of the less damaging freshwater.
Not only was logging on the way out but so was coal. By the time McDonald was writing her articles, she could note that names such as Factoria and Coal Creek "must puzzle newcomers," since few people realized the importance of coal to the eastside.37 Those names seem even more bizarre today, with nearly every vestige of the coal industry erased. The few reminders are features such as the coal adits, concrete foundations, and old railroad grades that dot Cougar Mountain Regional Wildland Park, but those fail to truly convey the importance of coal to the Seattle region.
The regrade, noted the Seattle P-I, was "endurable only for the sake of the promise of ultimate improvement."20 Essentially, it was a typical Seattle transportation project.
One remnant of Moore's clash with the city remains. Stand at the corner of Second and Virginia and you will notice something odd—each of the streets slopes down from you. No other intersection in the area of the former Denny Hill does this. Rising to 167 feet above sea level, the intersection of Second and Virginia is now the peak of the hill, or what one early writer called a "sort of terrestrial dunce-cap."29 It exists because Moore's legal finagling prevented any additional dirt from being removed (about eleven feet had been lopped off) despite Thomson's goal of lowering Virginia. Moore's hump was one of the few battles over regrading that Thomson lost; he was not happy about it.
An explosion caused by an employee thawing twenty sticks of dynamite in a pan over an open flame killed a nine-year-old boy.
By the time the contractors finished regrading the hill, the flume extended on pilings for 1,200 feet into Elliott Bay. It was an engineering marvel, since they had to use 125-foot piles, which they drove into previously dumped fill, in water that had been 200 feet deep before the regrades began.
In addition to desiring to regrade Denny Hill again, Bogue proposed to bypass Seattle's hills, "which in other vicinities would be dignified as mountains," via a series of tunnels.63 One would go under Lake Washington, another under Beacon Hill, and a third under the north end of Capitol Hill. The combined length of the tunnels would be five and a half miles.
self-dumping scows were mirror image top and bottom, with open decks that held four hundred cubic yards of dirt. Between the decks were two internal tanks, one on each side of the scow. A tug towed the full scow out into Elliott Bay, where a crew member pulled a rope that opened valves, or seacocks, on one side of the boat. Within three minutes, water filled one of the tanks, and the out-of-balance scow flipped over, dumping its load. No longer weighted down by the dirt, the scow rose high enough to drain the internal tank, which took about eight minutes. The tug then pulled the scow back to shore, ready for its next load.
As late as 1929, he was still offering plans for cutting down hills in Seattle. In his memoir he wrote dismissively of those opposed to regrades: "Some people seemed to think that because there were hills in Seattle originally, some of them ought to be left there, no difference how injurious a heavy grade over a hill may be to the property beyond the hill."
Another reason for the willingness to level our hills was that Seattle had an unusually mobile population. Around 20 percent of men eighteen and older who had arrived in 1900 were still here in 1910, a rate significantly lower than the rate in other American cities.