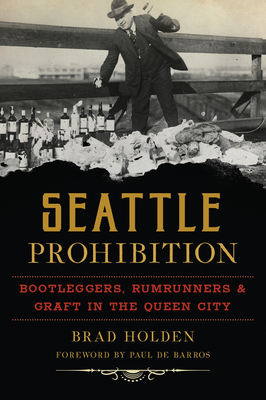 Title: Seattle Prohibition
Author: Brad Holden
Completed: June 2021
Overview: Fun look at Seattle's past. Quick read with interesting tidbits of information. Want to look into the life of Frank Gatt ("The Gentleman Bootlegger: The Story of Frank Gatt" is his biography written by his great-granddaughter Jewelli Delay)
Highlights:
Graham's influence was so powerful, in fact, that when the Great Seattle Fire of 1889 wiped out most of the city's buildings, her brothel was the first to be rebuilt.
That Prohibition was an indictment against alcohol is, in many ways, a popular misconception. More specifically, it was a legal retaliation against the places where alcohol was served. Saloons, as they were known, had grown to become the social bogeymen of their time and would eventually be the driving force for America going dry under the Eighteenth Amendment.
the rowdy Georgetown neighborhood was resisting annexation while operating as a company town for the Seattle Brewing and Malting Company. With its proximity to hop-growing areas along the Duwamish River, the brewery was producing ample quantities of its popular Rainier brand of lager and grew to become the sixth-largest brewery in the world.
The same year that Gill was elected as mayor saw women in Washington State win the right to vote. Or, more accurately, they regained the right to vote, as they had previously been granted the right to vote in 1883 but had these rights repealed in 1888.
telling voters, "I'm for temperance now, temperance in eating, in drinking, in religion, in all things. Temperance, that beautiful word, not prohibition—tyrannical, unreasonable, without meaning, making thousands of criminals." Before exiting the stage to the accompaniment of a live jazz band, he would excite his crowds of supporters by promising, "No one is going to die for want of a drink of good spirits as long as I'm mayor!"
On this day, Hubbard stood before the crowd and introduced a powerboat which, he explained, would be propelled by a magnetically charged engine. He named this new device the Hubbard Energy Transformer. It would later be theorized that Hubbard's motor was actually an early nuclear device powered by radium.
Compared to their East Coast counterparts, these Pacific Northwest bootleggers tended to be a civil and nonviolent lot. There were no violent gang wars or bloody massacres like what was happening in Chicago and New York. Rather than use guns or violence, local bootleggers were more inclined to rely on their business savvy to stay competitive. Perhaps this was a trickledown effect from the way Olmstead ran his business, or maybe it was the laid-back culture of the West Coast in comparison to the other side of the country. Whatever the reason, the only incidents of Prohibition-related violence were usually at the hands of the federal dry agents, who were known for their brutality.
The liquor trade throughout Western Washington was so robust, in fact, that Seattle actually hosted a bootlegger's convention in March 1922. Over a hundred bootleggers attended the event at a downtown hotel in which they formally established a set of rules and protocols for their illicit profession. Among the agreements was the price range for smuggled alcohol and the condemnation of any narcotics.
the raid, the Bucket of Blood was shuttered up and the space would remain vacant for over eighty years until being rediscovered in a 2018 building restoration.
In Seattle, the first drink was served at midnight on April 7 at a bar just off Fourth Avenue. By noon the next day, the entire city had completely run out of beer. To this day, the passage of the Cullen-Harrison Act is celebrated every year on April 7 as National Beer Day.
Inside these liquor stores, clerks were forbidden to discuss the merits of different brands, nor could they suggest one alcohol variety over another. They could not even inform the customer what brands they carried, rather a printed list was provided for customers inside each store. Upon a customer making a purchase, the bottle was placed inside a brown paper bag and the customer was sent along his or her way.
Other rules reflected the general concerns people had about avoiding the lawlessness from previous times, including prostitution. Therefore, women were no longer allowed to stand at the bar nor could they order drinks for themselves. In addition, they had to be seated at all times so there could be no possibility of solicitation. This particular rule would stay in effect until 1969!
Bert Grant's Brewery Pub in Yakima, which was the first brewpub to open in the United States since the repeal of Prohibition. Taking advantage of the region's thriving hop farms, Grant was among the first to introduce American palates to the hoppy flavors of India Pale Ale, which has since become one of the defining beers for craft breweries.